Stunning beaches located near your brand new home in the North East
The North East of England is known for many things; historic sights, football teams, nightlife and National Trust areas just to name a few.
Beaches may not be the first thing that come to mind when you picture this region, but the North East boasts beautiful coastlines that stretch from Northumberland all the way down to Saltburn-by-the-Sea. Charismatic seaside towns are dotted throughout the whole of the coast; perfect for you and your family to explore.
Despite not receiving the warmest of weather here in the U.K., the breathtaking beauty of our many beaches all year round compensates for the cold temperatures. In the North East, traditional local seaside delicacies are a must while taking in the stunning views out to the North Sea.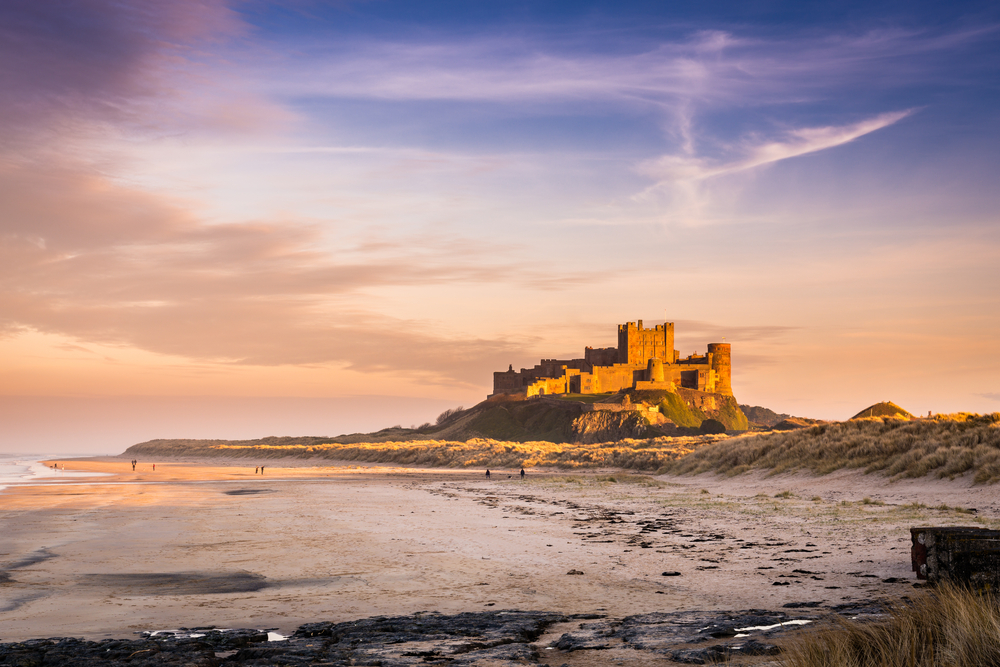 Northumberland offers unique coastal beauty
Bamburgh, Embleton Bay, Cresswell Beach, Seahouses, Beadnell Bay and Holy Island are some of the best beaches you can visit in Northumberland.
A sixth century old Norman castle overlooks the beautiful Bamburgh beach which really helps it stand out from the other neighbuoring beaches. You can book in to have a guided tour of the castle, it's very family friendly and offers countless rooms for you to discover and admire. Opening times are from 10am until 5pm, however this does change slightly in the winter. Tickets are available to buy at the premises, but these are subject to availability, so it's recommended that you pre-book online. Adult admission costs £11.95 and child admission is £5.75 (for age five to eighteen), although if you pre-book in advance you can receive a 5% discount.
The beach at Bamburgh receives ideal waves for surfing and is regarded as one of the most consistent spots on the coast. We believe that it's well-worth a visit; the astonishing castle, perfect beach and small shops and restaurants definitely make it one of the most beautiful coastal villages in the country in our opinion.
Embleton Bay is a wide sandy beach that appears to stretch for miles and miles into the distance. The ruins of Dunstanburgh Castle provide a dramatic backdrop to the beautiful bay. This quiet, hidden spot is ideal for a relaxing day out and perfect for walkers.
Strolls along this beach are extremely peaceful; it's one of the most unpopulated areas on the coast. You could complete a seven mile circular walk that weaves through Embleton, Beadnell and Craster, with various places available for you to stop mid-walk and enjoy refreshments.
The gently sloping sand at Cresswell Beach is backed by extensive dunes and can seem endless in states of low tide. This impressive beach is situated on the southern edge of Druridge Bay and demonstrates perfectly unspoiled scenery.
Beadnell Bay is a stunning location for weekend getaways or chilled beach days out. Roughly two miles away from the seaside town of Seahouses, Beadnell Bay is a place that the whole family will love. The wide, sandy beach found in a horseshoe shaped bay forms a natural harbour behind the grassy sand dunes and fields beyond the beach. The beach is a popular destination for a wide array of water sports, including surfing, windsurfing, kitesurfing and sailing. Restaurants, cafes and pubs can be found in and around the village, just in case water sports isn't of interest to you.
Lastly, Holy Island is a tidal island that is home to many different bird species, grey seals and a small number of common seals. If you are interested in wildlife and history, this island will definitely keep you occupied. You can access it via a single road, depending on the time, because twice a day the road gets completely covered by the tide. Once you've checked the times of high tide, you can drive over to Holy Island and admire the beautiful scenery and wildlife, the fascinating history of Lindisfarne Castle, and enjoy lunch in one of the local pubs. This is a truly unique and fascinating experience that you definitely won't forget.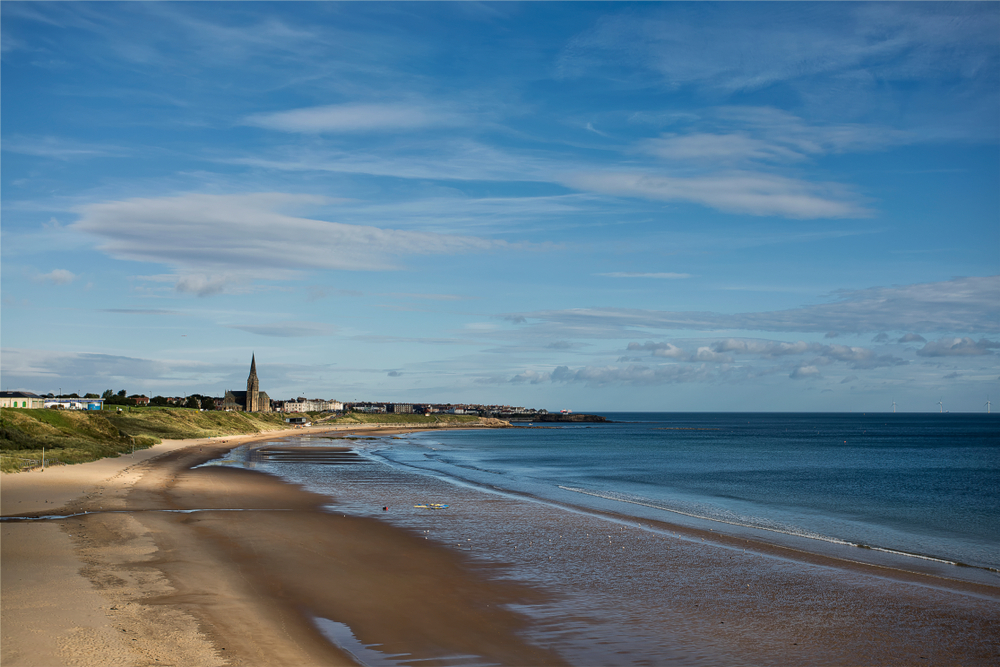 Enjoy the local gems of Tyneside & Wearside
Some of our favourite beaches that are slightly closer than those of Northumberland include Sandhaven Beach, Long Sands Beach, Roker Beach, Marsden Beach and King Edward's Bay. Each providing something different, these areas of the North East coast are perfect to visit with family or friends.
Sandhaven Beach is located in South Tyneside and is a great place for adults and children of all ages. The South Tyneside Heritage Trail crosses the beach, so it's ideal for walkers who are looking for a scenic, coastal route.
Long Sands Beach provides a mile-long sandy expanse and ideal waves for surfing and swimming. Visit this beach on a hot summer day and enjoy the wide, spacious shore; the beautiful scenery won't disappoint.
In Sunderland, you can enjoy Roker and Seaburn, both of which are Blue Flag award winning beaches. Lifeguards are on duty at these twin beaches, so swimming and paddling is safer for the whole family. The golden sands and cool sea make a fantastic combination to enjoy a day at the beach in the summer, although this beach is great to visit all year round. The Sunderland Illuminations brighten up the seafront every September to November with extraordinary light displays, the perfect time to wrap up warm and enjoy the fresh sea air.
For breakfast, lunch or just coffee and dessert, we highly recommend The Salt House Kitchen in Seaburn. It's slightly different to other restaurants around the area, serving an ever-changing menu of contemporary dishes and traditional treats. The cosiness and top quality service of The Salt House is sure to make you want to keep returning. By day, it's a bustling eatery, but by night it transforms into a relaxing restaurant and lounge bar. This spot is also dog friendly, with outdoor seating and a pup friendly menu for your dogs to enjoy after a long walk along the beach.
Marsden Beach is a true hidden gem situated just on the outskirts of South Shields. The beach is backed by tall, breathtaking cliffs and rock formations. This stunning backdrop differentiates this coastal area from all of the other beaches around. Marsden Beach has won awards from the Marine Conservation Society, meaning that it's properly looked after and a well respected destination, hopefully becoming an example to other beaches across the nation.
Finally, King Edward's Bay is a small sandy beach enclosed by cliffs and grassy banks located at the foot of Tynemouth Priory and Castle. The castle is run by English Heritage and is a beautiful historic site that overlooks the bay below. This beach is Blue Flag and Seaside award winning and is a stunning place to relax and admire the scenery. Dogs are banned on this beach, so if you were planning on taking your pet then you may have to resort to one of the nearby areas instead. Cafes and restaurants of Tynemouth are right on the doorstep, making King Edward's Bay a brilliant location for a family day out.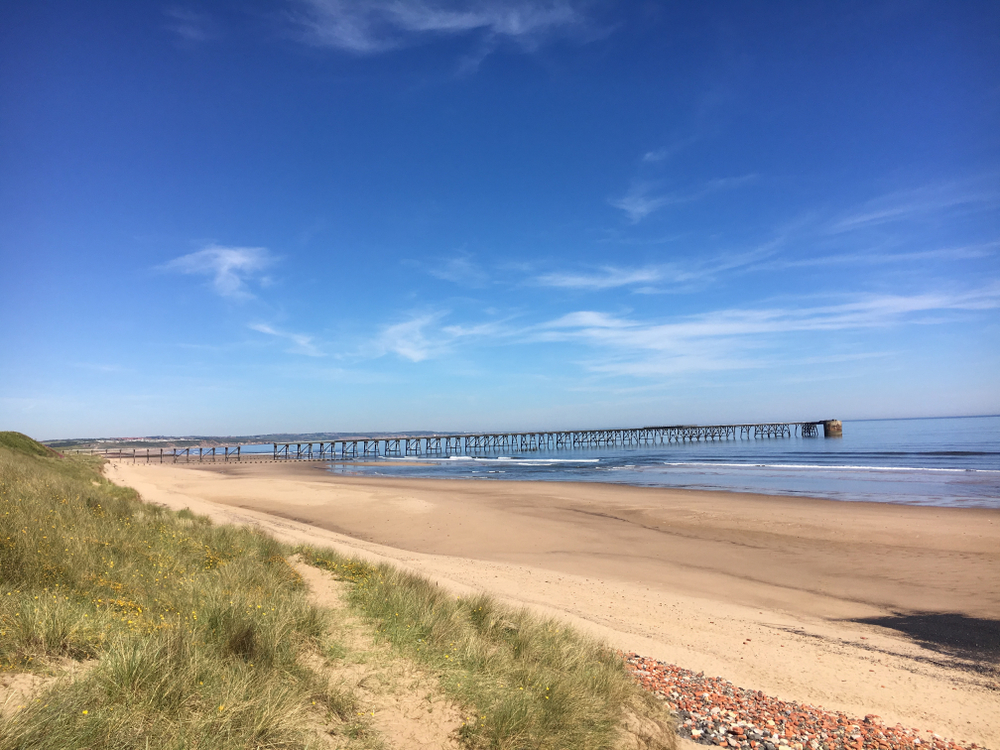 Admire the natural beauty of the Durham Heritage Coast
This natural, rugged coastline starts just below the mouth of the River Tyne in South Tyneside and trails down to Crimdon Dene at the north of Hartlepool. The Durham Coastal Footpath starts in Seaham and stretches to Hartlepool North Sands Beach. In total, it's 11 miles long. Discover spectacular grasslands whilst admiring the coastal view and taking in the fresh sea air. This walk is definitely one of the most refreshing and relaxing on the whole of the North East coast.
Seaham beach is both rocky and sandy, and many small glass pebbles which have been eroded into smooth spheres by the sea can be found around the beach. It's dog friendly and a great beach for families. Seaham Hall and Spa is also located on the cliff tops above the beach, so if you fancy a venture out for a seaside spa day, Seaham is the place to go.
The coast is only roughly a 17 minute drive away from our homes at Thorpe Thewles, and Hartlepool North Sands is one of the closest beaches to home that still lies on the Durham Heritage Coast.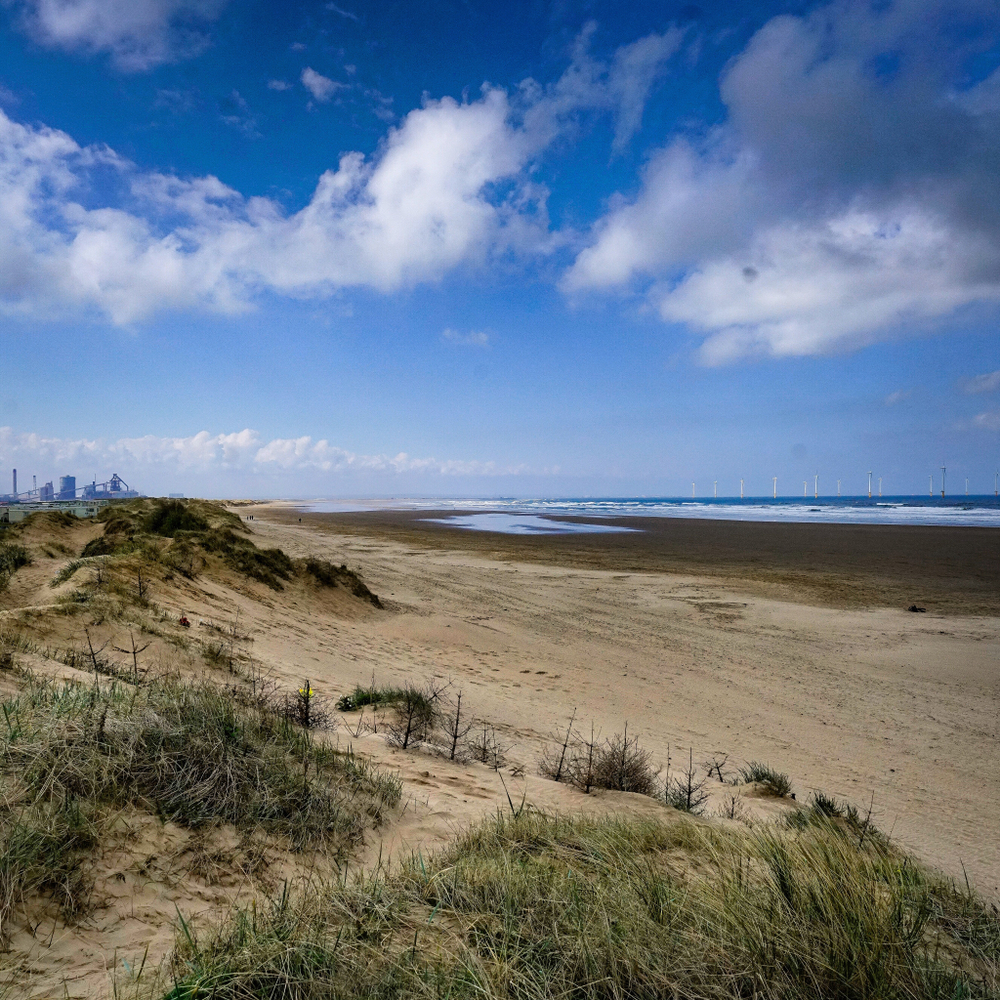 The Yorkshire and Cleveland Coast is right on our doorstep, making it perfect for spontaneous trips and family adventures
Redcar beach is one of the most popular in the North East along with Saltburn-by-the-Sea. Located within the Cleveland Coast in Teesside is Redcar and Saltburn is slightly further south lying within the Yorkshire Coast. These beaches are right on the doorstep of our homes at Middleton St George, Redmarshall and Thorpe Thewles.
Redcar Beach consists of flat sandy terrain that stretches for eight miles along the coastline. Redcar is enjoyed by many water sports enthusiasts; windsurfers, sailors and divers being some of the most popular.
Saltburn has many things for the whole family to take part in, from experiencing the cliff tramway to the fascinating Captain Cook heritage centre and, of course, the beach. This coastal town bestows plenty of Victorian charm. It is home to the last remaining pier in Yorkshire, promising an authentic seaside experience.
Each of these locations inhabit their own unique surroundings, but they are all joined together by the collective friendly atmosphere and charm of the North East coast. Explore the large seaside towns and small hidden coves to find your favourite beach spot in this region. The dramatic natural landscapes and rich history are sure to keep you returning to the coast to enjoy the beautiful environment we have in the North East.
Stay In Touch
Keep up to date with our latest news and
developments on Twitter, Facebook and Instagram